JBCL About Time
About Time - Windows Automated Time Logging



This utility is part of a set of Online Time Recording software - this is the lite free version.
About Time is the small member of the family that can do automated time recording - all you have to do is run the program
and it records what times you spend on programs. This is one part of what it can do.



(There is a bigger brother program - called About Time Professional - which can record time against clients and jobs, for charging time.)



What does AboutTime do?
It has 3 main functions:

1 - Past - Record miscellanous notes and find them later.

This gives a place to store information you have no other logical place to put.

Notes are date and time stamped and can be given labels to find them more easily


Notes are stored in one place, in a simple log file that can be searched quickly and easily.
Quick guide
To save a note - click the "Note" button. Enter a note. Click "Save and Finish"

Notes automatically get saved with a date and time stamp
Hint - make them easy to find

for recording paying bills you may always want to put the same word(s) each time e.g. Paid Mastercard
for recording when tax was filed use the same words each time - e.g. Filed tax 2017
Recording a travel booking e.g. Travel Booked Flight to Wellington NZ345 25 Jan 3:35pm Ref=QJCXYZ

This is a good place to record any miscellaneous notes that may not have an obvious place, as you can search for them
You can add labels to entries to make them easier to find (starting set are Home Work Family) - this is optional

To find a Note - Click "Find Notes" button. Choose a date range if you wish and key word to search for and click "Search"

Search examples : "paid mastercard" or "Filed Tax" or "Travel"
About Time Past - more about using...

2 - Now - Automated Time Recording


This is a simple idea - it records and datestamps
every time you start something new. Tasks are logged to the nearest
second. It records this information without you having to do anything except
start the program. The logfile is concise and plain text and can be read by


Notepad or any other program.

The text recorded is the text in the Title bar of the window you are working on - e.g. "Family Christmas Invitation 2018 - Microsoft Word".
This is usually quite informative.


Within this is a lot of flexibility and power, for instance you can look at time spent as a detailed list, or as summary totals.

If you don't want to see all details, you can still get summary totals, by setting up a list of Summary Groups to analyse your computer time into.
(Setting this up is under Settings for "Now")



Best of all - you don't have to do anything to record time other than start it - the program can record how you spend your time while it runs in the background.

This program also integrates with About Time Professional
(There is an option there to have About Time - This program - automatically record Now Information when the About Time Professional Clock Time Recording starts, and the recorded time details for any timesheet item can be listed - See About Time Professional for more info on this. This is a very powerful integration - it means if setup you can check exactly what was happening on the computer during any Timesheet item)




Recording can be started or stopped at anytime.
Information produced
The basic unit of information stored is a line containing

date, time, Number of seconds, and page title

A days work will produce likely around 500+ such lines - its a warehouse of data, so each line is not very useful in itself.

Best to treat the data recorded as a a large set of data, and About Time provides a few basic views (or you can analyse the data yourself)

Grouping and totaling them or showing a graph is where the usefulness is - About Time provides 3 basic views
Summary Reports

listing all the time logged for a selected time range
A summary report of time items logged (from most time to least showing number of times on same item, and total time,)
A summary report of time items logged (from earliest in day - showing number of times on same item, total time, earliest and latest time)

Graph breakdown

It comes with standard analysis groups - you can add to these. This shows a graph of categories you have spent time on

(see example graph below)

Interface for other programs to use - list recorded data in a range

It can produce a list of what you were working on between two dates and times via a command line interface.
Example of graph breakdown
Quick Guide
Click the "Rec" button to start recording.
Click the "Pause" button to stop recording.
Click the red Info button to see what was recorded.

Details - all of the recorded lines can be listed
Summary option "Summary Totals" shows time spent from most time to least time
Summary option "Summary Time Order" shows time spent, ordered by start time.
Graph shows the totals spent in sections. These sections have a default list, and can be user defined.
Click description of a graph to see a more detailed breakdown graph

You can set a lot of options and the Sections for the graph in the "Settings" button.

Look in the "Now" tab for the Now settings
Click the "More" button to see and edit the Summary Total Sections (used for Graph)
About Time Now - more on use...
About Time Now - Settings
3 - Future - Schedule 1 off or repeating events
This provides a simple and powerful way to schedule reminders and run commands at certain times.
Quick Guide
Click "Set Events" to create events

Events can be two main types:

Reminders - these will show a text reminder at the top of the screen when due.
Commands - these will run at the time set up. You can set whether they ask whether to run or run automatically.

These Reminder and Command Events can be one off, or repeating.
One off events will run only once at a certain date and time.
Repeating events are two types:

Repeating at regular intervals
Specified Events at times you specify - eg 15 minutes past the hour only in work hours on week days.

Click "Start Events" button to start the events running
Click "Stop Events" button to stop events running
More detailed information on the main functions - Past Notes, Now Info, Future Events - follows

About Time Future - more on use...
More about the Past Function - (Recording and finding Notes)
More about the Now Function - Automatic recording of what I am doing)
More about the Future Function - Repeating or One-off events
About Time Settings
Setting Future Events
More about miscellaneous setup options
Appearance
Because it is a program running constantly in the background, on the actual desktop it has a semi transparent appearance. By default it is nearly invisible when other programs are active, but it you mouse over it it becomes more visible.

When mouse is not on the program:




When the mouse moves over the program the functions become more visible:



(How transparent it is in either case can be set by you.)

To Index
More about the Past Function - (Recording and finding Notes)
More about the Now Function - Automatic recording of what I am doing)
More about the Future Function - Repeating or One-off events
About Time Settings
More about miscellaneous setup options

About Time - Past function
This is useful for storing notes that have no obvious place to file them. Instead of covering your screen with yellow post-it notes file them in here.

The advantage is that they are all in one place, and can be found by simple searching for the text in them.

They can be further organised by attaching categories to them. This is like filing them in a mailbox, but if you know how Gmail works it is more like the labels that Gmail uses because you can attach more than one label to any note.

Who is it useful for?
Anyone who has lots of miscellaneous information they want to keep track of.

Click the "Note" button.

Example of Storing a note: - this will be saved with a date and time stamp.


Example of Finding stored notes:

You can search within the grid showing results - press CTRL+F to get a search dialog, and F3 or SHIFT+F3 to search forwards and backwards.
You can copy text as well by double-clicking a line


There is also an "Advanced" function, where you can store notes in folders where the folders are the topics, and
individual files are the individual notes. Double clicking any individual folder or file opens it in Windows as normal,
eg opening a Word Document opens Word etc. You can store several top folders and navigate to the topics below each
one independently.

(This works similarly to the Mac OS Finder)


To Index
More about the Past Function - (Recording and finding Notes)
More about the Now Function - Automatic recording of what I am doing)
More about the Future Function - Repeating or One-off events
About Time Settings
More about miscellaneous setup options
About Time - Now Recording

Who is it useful for?
Anyone who spends much of a day on a computer and wants to keep track of how much time they spend on different tasks automatically.

What information does it store?
If Now Recording is turned on - then each time you switch to a new Window on your computer, it records a line in the log file with
the date, time, number of seconds in the window, and the title bar.
For most Windows programs the title bar is very informative, and gives an exact idea of
what you are doing, since most Windows applications put a lot of information
in the title bar, for example Microsoft Word puts the name of the document as well as the name of the program, Browsers put
the name of the web site, and Outlook puts the subject of the message plus the name of the program (Outlook)
Examples of program titles:
Word document: Tigger Food.docx (Protected View) - Microsoft Word
Browsing: New Zealand Google News - Firefox
Email: CRYPTO-GRAM, November 15, 2017 - Unicode (UTF-8)
hence as you switch from program to program you can get automatically recorded information like:
2017-11-18 10:47:46 0 [JOHN-HP1] [System] Windows Resumed
2017-11-18 10:56:15 0 [JOHN-HP1] [AboutTime] Start recording

2017-11-18 10:57:04 3 [JOHN-HP1] Reading List app
2017-11-18 10:57:07 2 [JOHN-HP1] Home - BBC News - Firefox
2017-11-18 10:57:09 14 [JOHN-HP1] Search
2017-11-18 10:57:23 2 [JOHN-HP1] Opening - Microsoft Word
2017-11-18 10:57:25 24 [JOHN-HP1] Document1 - Microsoft Word
2017-11-18 10:57:49 16 [JOHN-HP1] Tigger Food.docx (Protected View) - Microsoft Word
2017-11-18 10:58:05 2 [JOHN-HP1] Home - BBC News - Firefox
2017-11-18 10:58:07 5 [JOHN-HP1] Search
2017-11-18 10:58:12 4 [JOHN-HP1] Crypto-Gram - Windows Live Mail
2017-11-18 10:58:16 4 [JOHN-HP1] CRYPTO-GRAM, November 15, 2017 - Unicode (UTF-8)
2017-11-18 10:58:20 8 [JOHN-HP1] Task Switching
2017-11-18 10:58:28 3 [JOHN-HP1] About Time - V5.17.11.2
2017-11-18 10:58:31 0 [JOHN-HP1] [AboutTime] Stop recording


The program monitors when the PC is idle - if there is no keyboard or mouse input for typically 5 minutes it also records this by adding the word (idle) at the end of the recorded text. (The number of minutes until it records this idle is settable).


The main buttons under the Now section are:
Rec or Pause - these turn now recording on or off
the Info button - show what is recorded for today (or any other date)
The Pen Button - you can record a time note that you started doing something at this time (if enabled)
Graph button - if enabled you can see a graph from the time summaries.
Settings - the Settings for About Time

Useful options for Now Recording
Most of the other settings are found by clicking on the "Settings" button - (see "Settings" section below)
In the settings there are further Now Recording options such as:

Record system times
Same log for several screens

How time is analysed

-The AboutTime Now Recording is smart - when recording it automatically pauses recording when you run the About Time Now information program. It does this simply by monitoring which is the active program.

-About Time shows also its status with the taskbar icon - if recording there is a red bar to the left of the owl in the taskbar icon, and the now Recording grid is coloured red.




-Also if future events are running there is a blue bar to the right of the owl in the taskbar icon, and the Future Events grid is coloured blue.




-Examples - Taskbar icon when both Now Recording and Future Events are running




When neither are running


When Settings are running

How much resources and space does Now Recording use?
If the now recording is turned on, the amount of information logged is quite a lot, but is manageable - for instance 3 years of work on two screens logged into one file is around 30MB or 500,000 entries, at around 500-1000 entries per work day, and the Now Info button takes about 1 second to show todays recorded time. When recording the program uses around 3MB RAM and 0.01% of the CPU - ie negligible.




Now Info - Finding out what I was doing

To find information about "What was I doing?" click the Now Info button.
This will pause the recording and start the information program.

-Information can be got between any two dates and times, and common date choices
can be picked by clicking a button.

-You can list some of the activities by entering a filter. eg putting in
"Internet Explorer" will show only web browsing using Internet Explorer.

-You can list activities in time order which shows all the windows you have worked on as the day went on.
-There are also two summary reports:
simple summary - activities totaled with the longest at the top.

summary in time order - same information as above, but ordered by start time.
-There is a lot of smart totalling done as well - totals of non blank time (when the computer is active), totals of time idle, total of time away from the screen for longer times. These are shown in the Away tab and the More Info tab.

-You can also see a graph breakdown of the main things you have worked on

This display shows what you were doing on a certain date and time - the columns are the date and time, the seconds on each window, and the title of the window. If the "Now" Recording button is on, this information can be collected automatically by the program.

You can select date and time ranges these ways:

by entering the year/month/day or hour/min values into the boxes shown
clicking the ">" buttons brings up a date selector ot time selector

by selecting quick date choices using the buttons to the left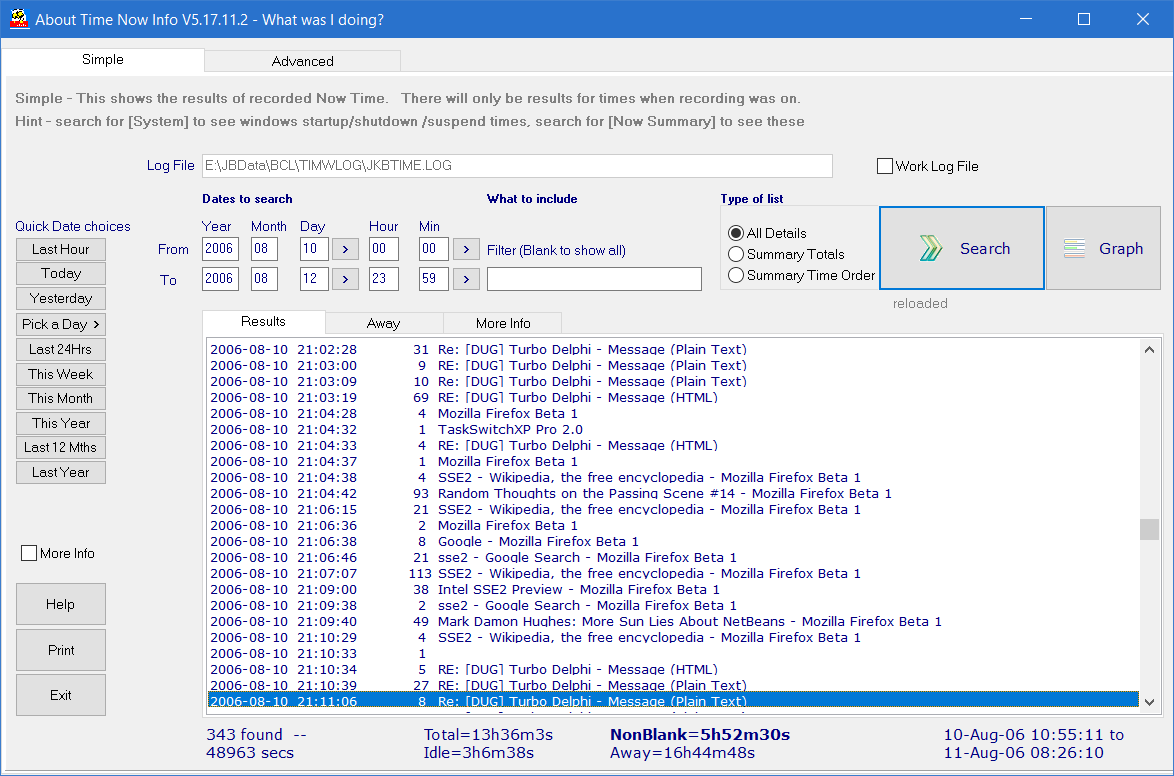 The Away tab lists time away from your screen - for example in meetings. You can add descriptions for these if you wish.
The More Info tab shows counts of the number of records found, and various measures - (time taken to analyse and various time breakdowns).

Example of Summary Details:
Here the columns are the number of total seconds for each activity, total time in hours/minutes/seconds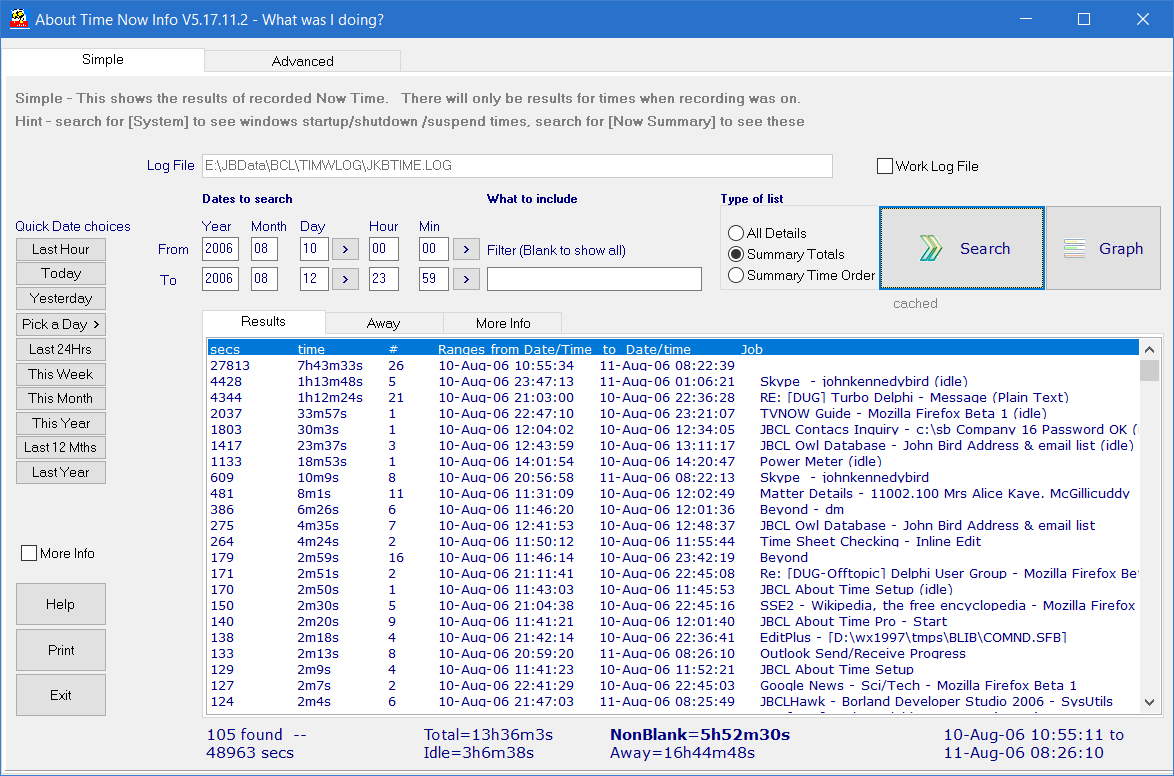 You can print this information with the Print button.
-When you finish the report program remember to restart the recording. If it was recording when you clicked the Info button it should start recording again automatically.
Examples of these Now Summary Totals:
As a graph (click the Now "Graph" button)
(This example is showing a selection of a couple of weeks of recording)


Multiple searches in one line
(setting up these Categories or Sections is described in the Settings section below)
You can search for several different title words in one summary heading line
e.g.
Work:Delphi Work:CodeGear Delphi|Delphi 10.2|Delphi 10.3|Borland|Embarcadero|Delphi
Any of these will be added to the Delphi section for Graphs.
Note about the format of the line used:
Section
Work - The first word is the name of the Section to be totalled to. This is the first word on the line before : (colon)
Display name
Delphi Work - (optional) a display name for the graph, in this case the graph title will show "Work: Delphi work"
if no display name is set, the first 25 characters of the rest of the line will be used, e.g. Work: CodeGear Delphi| Delphi XE8
Multiple titles
These are the titles in the window to search for. Note most programs will have several titles that can identify with:
e.g. Microsoft Outlook can be identified by any of these in the title line
" - Outlook" or "- Message (HTML)" or "- Message (Plain Text)" or "- Message" or "Inbox -"
so set up a search line like:
Email:Outlook email:- Outlook|- Message (HTML)|- Message (Plain Text)|- Message|Inbox -
This makes a total section called "Email", the graph will display Email: Outlook email
and will search and accumulate for any times that the above titles appear.
The great advantage with this is that you can click on the graph heading for any line to see details,
where the time for each of these search titles is broken down further with summary details
Summary Details

If you click on the left side description of the graphs, it will show the detail for that line,
This example shows time for a week, and if clicking on the text "Work:Delphi work"
you can see a nice detail of the time. In this case it shows the time using different Delphi versions
The Detail Tab "Detail Lines" shows the individual times behind this section:
How this was done:
The line used here was
Work:Delphi Work:CodeGear Delphi|Delphi XE8|Delphi 10.2|Delphi 10.3|Borland|Embarcadero|Delphi
Section to total to was "Work"
Display name for graph was "Delphi Work"
the titles searched for in the time are any of
CodeGear Delphi (note this is the title identifying Delphi 2007)
Delphi XE8
Delphi 10.2
Delphi 10.3
Borland
Embarcadero
Delphi
Future Events - what they look like when they run

Reminders pop up at the top of the screen





Commands to run pop up lower right of the screen, above the clock - there will be a 20 second countdown to click Run




(The settings in this case are the job runs if you confirm (Press Enter or click run)

if you do not click "Run" the window will close without doing anything)


How the events run - eg the mode the program starts in are set up About Time Settings
About Time Settings

Setting up what the events do when they run - eg reminders or backups is described in detail below
Setting Future Events


Settings


Settings for About Time Past - Notes has only one setting: the name of the log file to write notes to.
More settings about advanced notes are in the "Find Notes - Advanced" tab (setting top folders)

Settings for About Time Now



To alter the About Time Settings, click the "Settings" button. This shows screens like below:


More about the options above
Now Recording program start - set whether the program starts Now Recording when started, or only when Record is clicked
Now - idle minutes counted as non-blank
If you are away from your screen for a just a few minutes,
you may be busy and wish to count a short idle time as non-blank
values for this will vary depending on individual work patterns
default is 5 minutes
This value can be from 1 to 30 minutes
Longer idle times will be marked as idle and away time
Now Record System times - if set the computer records when turned on or off or suspended or restarted
Now Record Computer Name - if more than one PC are logging to the same log file then turn this option on
this allows you to see which info comes from which PC
this also does smarter calculations of elapsed times
Allow recording of Time Notes - you can record when a task was started
About Time Auto Record Clock - if set then timing a job in About Time Pro using the Clock will start About Time Now Record
this gives you details of the computer operation while recording chargeable time
Recording will stop when the clock is stopped in About Time Pro
System Settings change protect - if set when you run Control Panel or Settings,
the screen will lock unless you have unlocked in the last minute (Windows 10)
More notes on settings
-Record system times - if on this will record whenever the computer has screen saver on, or suspends, resumes or restarts.

-When the program is running you can turn on or off Now recording at any time using the "Rec" or "Pause" button under the "Now" section.


-The default log file name for Now Recording is c:\JBCL\data\ATLog.txt


-If you normally work on several computers or virtual machines during a day, you can do the following:

Install JBCL of each of the PCs you want to monitor - by going to to the shared JBCL folder (usually called JBCLMain) and running the program JBCStart.exe

In About Time Settings for each PC do these settings below (The settings are just for each screen):
Set About Time to start automatically on each and to have "Now recording program start" set to "record"

Set the Now Logging file to be the same filename in a common or shared folder
Turn on the option to record the computer name
Set AboutTime to start automatically on login as below.

With this setup all screens you work on will continuously log time to the same file, and the Now Information will have the information from all the screens you work on. Recording the computer name automatically turns on some smarter totalling. Note several screens writing to the same file works fine in practice as usually you are active on only one at any instant.

Note - Using Simultaneous logging from more than one screen to a file on a Network drive:

Check in Control Panel/Sync Centre/Offline files - turn off

Otherwise different PCs may see different versions of the same shared file on a network drive.



-The "Now - idle minutes counted as non blank setting" set to 15 means
if my screen was idle (screensaver or no input) for up to 15 minutes and I resumed activity after that, then count that interval as working rather than away.

If you very often have short conversations at or near your desk without using the keyboard or mouse then this is a useful setting.
Default value is 5. The best setting for this varies highly from person to person depending work patterns.



Record Time Summary Totals - Note with V5, this adds no extra processing, as the graphs can be seen for any time range.

(It does require Now Recording to be turned on). They can be printed or graphed as well.


Note this information can also be got for any time period using the Graph button on the About Time Now Info screen, even it Record Time Summary Totals is not turned on.

Hint - if you want this graphical break down of time, have either Now recording turned on.
Now recording is more flexible and uses more disk space, but its not so much (eg 1 year about 10 MB).

Other setups - run when you log in

-You can set the program to start automatically when you login: Go to the startup folder, and create shortcut in one of two ways:

Simple - create a shortcut with command line

C:\JBCL\Prog\AboutTime.exe

Smarter - if you want to start more than one program and check for the latest version before it runs then create a shortcut with the command line like:

C:\JBCL\Prog\JBCStart.exe Programs AboutTime.exe ATClockW7a.exe

(this option starts About Time and also a floating desktop clock)
Settings for Future Events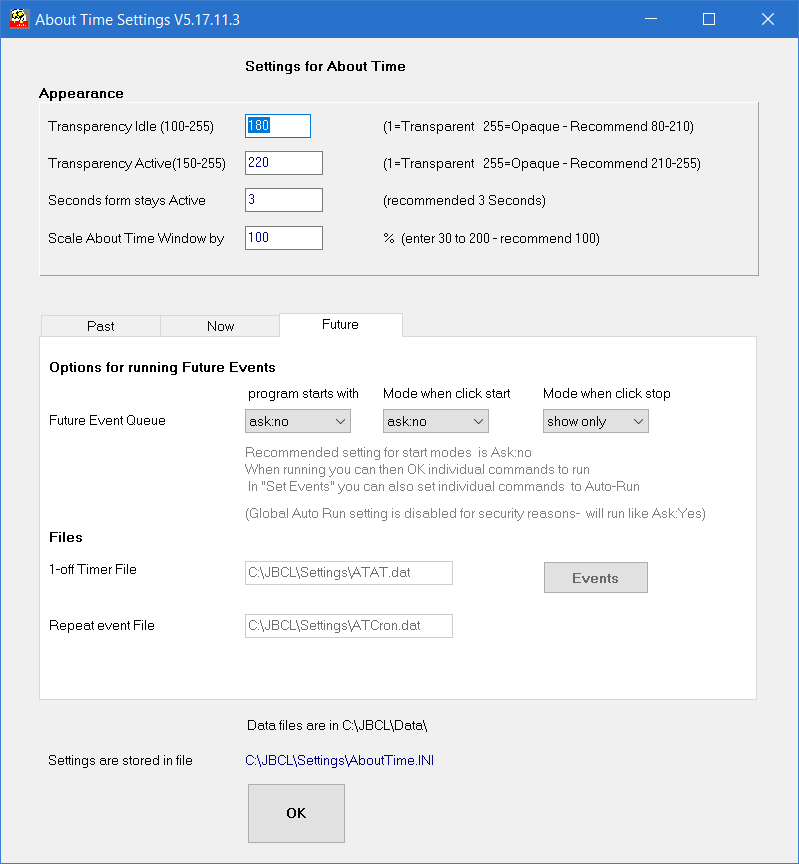 These settings control how future events are started and stopped.
More settings are in the "Set Events" - this sets details of what runs when and how.


This sets up the categories for automatic analysis. The main categories here are Work, Email, and Web.
The program will give total time spent on each, also how much time on each item shown here.

How this works: If you are working on a Word document, usually the words "Microsoft Word" appears somewhere in the window title bar.
If About Time sees that text there, it will add the time spent looking at that screen to the Microsoft Word sub-category, and the Documents category. Similarly for other programs.

Note the search for a matching sub-category starts at the top of the list and finishes when it finds a match - so if a window will match several on the list, only the first match will be recorded. Put the more important matches high in the list for this reason - for example:


JIRA ( a web program) is on the list before Internet Explorer as I am wanting to measure time spent in JIRA more than I want to measure time in Internet Explorer so time spent in JIRA is logged against Work and Jira.



The default list is similar to what you see above, the items I have added are a few - JBCL, Beyond, Codegear, Delphi, Borland, Fitec, Semantic are not in the standard list..


To identify work screens, you may wish to add a few such common names that show on the screen Titlebar here.

Examples of details lines you may set are:

For a Work Section totaling Delphi work, or an Email section detailing Outlook.

Work:Delphi Work:CodeGear Delphi|Delphi XE8|Delphi 10.2|Delphi 10.3|Borland|Embarcadero|Delphi

Email:Outlook email:- Outlook|- Message (HTML)|- Message (Plain Text)|- Message|Inbox -

e.g. Microsoft Outlook can be identified by any of these in the title line

" - Outlook" or "- Message (HTML)" or "- Message (Plain Text)" or "- Message" or "Inbox -"

so these are all searched for.



More about the Past Function - (Recording and finding Notes)
More about the Now Function - Automatic recording of what I am doing)
More about the Future Function - Repeating or One-off events
About Time Settings
Setting Future Events
More about miscellaneous setup options


About Time - Set Future Events
To control how Events are run and what mode About Time starts in, go into About Time Settings.

To set what the events do - in About Time - click the button "Set Events",
or in About Time Settings, on the tab for Future, click the button "Set Events"

You can set the system to run one-off events or repeating events. These events can be many types:
-reminders of appointments
-reminders of birthdays
-programs to be run at a certain time

The idea for this comes from the excellent cron utility that has always been part of all Unix and Linux machines. All the housekeeping tasks for these machines run at regular intervals and are controlled by the cron utility.

However most desktop PCs or laptops are not on all of of the time. For linux machines a variation of cron called Anacron was developed for this- this allows jobs to be run at anytime the computer is running, but still will run at regular intervals.

(This is a fairly complete implementation in Windows of cron)


For Windows PCs there are some extra considerations:

Windows provides the Windows Task Scheduler but few people other than computer professionals ever use it because it is quite obscure to find and use. It also does not provide the same flexibility that cron does. It does provide simple repeating tasks that are easy to set up.
On Windows PCs you may not want automated tasks to run if the PC is in the screensaver or extremely busy.
It may be useful to have the option to start and stop all automated tasks simply from a central control program
PCs are not normally running all the time.
About Time Future events attempts to address these.

It combines simple setups of events to repeat at fixed intervals, and at specified times, and tasks that can run anytime.
It runs as a normal program on the task bar, (not as a service) so is easily started and stopped
It adds extra functionailty to the cron routine - such as the ability to disable a specified event instead of deleting it, and also the ability to specify which years it may run in.
It adds different types of operations - as well as running commands it can do reminders and send emails etc
It also adds a description for each event which makes it easier to organise them. For reminders this description is the text for the reminder.
tasks can be organised into groups - eg birthday reminders - so that it is easy to view them
Events that are commands can be set to either run automatically or ask for confirmation whether to run them.
(Note because of security implications for having programs run automatically, there are inbuilt security mechanisms to make sure programs run are OK to run.)

If future events are running there is a blue bar to the right of the owl in the taskbar icon, and the Future Events grid is coloured blue.



Tip: - For each field there is a help window on the right that shows information on how to use this field and examples of valid entries. This infomation changes as you move to each new field.

Technical details
This has been written to use minimal system resources. When the Future Events queue is started, all the pending events for today are calculated just once, this typically takes less than a second and uses little resources. After this the program is mainly sleeping and checking if the next event has been arrived at yet. It will recalculate when events are restarted, or when the next day starts, or when the One off or Repeating events files have changed.

Simple Events
These are simple to set up, for events that are to run at certain fixed intervals. eg for a command you want to run every 14 Days.



Specified events

These still run at specified days and times.

Here is a simple example - this is an event that will run every minute:



Here * means all, so it runs for all years, all months, all days, all hours, and all minutes - this means once a minute!

Note you can specify the days to run as days of the month or days of the week - if either is matched the event can run.

Here is a slightly more complex example that shows the power of the cron design:

This is a reminder set to run on the last few days of every second month (Feb, April, June, August, October, December
and on the hour the afternoons of those days from 12 (midday) to 5pm (17:00)

(This is a reminder to pay GST tax which is due at the end of every second month)




Note months that do not have a 31st will ignore that day. (February will ignore 29 unless it is a leap year - only the 27th and 28th will be matched)



Anytime


The Anytime option applies only for events that run once a day or less often - these allow the event to run anytime in the day that the computer is on and About Time events are running.

Anytime events are checked every half hour, on the hour and 30 minutes past. This is the same as the Unix/Linux Anacron addition to cron.. They are also checked when the Furture events queue is first started and will be run on the first minute that nothing else is scheduled to run. This means that you will see these events or reminders soon after you start the Future events running.

At present this means that Anytime events will run only once per day - if the event has not already been run today it will be run the first time that these Anytime events are checked.

Later this may be expanded to a more general function of checking eg an event or command may be set to run every day, but no more than 3 times per week.. This is an idea for future versions and is not implemented yet.

Note - If you tick the Anytime option, the hours or minutes settings are not blanked but are disabled (greyed out) and will be ignored.



Summary


This design I think provides the best combination of simple event settings, specified times, and anytime functions in the simplest scheme possible.

Technically this design follows the cron design closely, and adds several conveniences:

Can run reminders as well as commands
Events can be disabled without being deleted
Events can also be set for which years they run in
It has a visual interface to make it simple to set up.




Credits


Ideas for this come from:


Windows Scheduler (credit Microsoft)




Unix/linux cron (credit ATT Bell labs and the Unix/linux community)




Unix/linux Anacron "



To Index
More about the Past Function - (Recording and finding Notes)
More about the Now Function - Automatic recording of what I am doing)
More about the Future Function - Repeating or One-off events
About Time Settings
Setting Future Events
More about miscellaneous setup options


More Functions
The button at the right end labelled "

>>

" is for options about locking or shutting down the PC.
These functions can all be done from the Start button, however this has a couple of nice additions:


There are many options shown on one screen, including Lock, Log Off, Suspend, Hibernate, Shutdown, Restart, Fast Shutdown. In Windows, some of these options are not seen together - for a laptop usually either Suspend or Hibernate is seen, and the other requires either changing settings or holding the Shift key.
These options record a history log of what Windows are open at the time. I wrote this as my Vista PC had a habit of failing to resume from Suspend and I liked to know what was running and what I lost.
Miscellaneous Details
How do I set the program to start automatically?



Add a shortcut to the program (C:\JBCL\Prog\AboutTime.exe) in the Startup folder:

The installation program will install this in the Startup folder automatically.
I consider this the best place to put it, as users can remove it manually with Windows
Explorer, or using Windows configurations tools such as MSCONFIG.

To add to startup folder manually:

Right Click Start and select open, right click Programs and select open,
right click Startup and select open. Right click in the folder and select
new shortcut and fill in the details, for example:

Target: "C:\JBCL\Prog\AboutTime.exe"
(The "" are needed if the pathname has spaces in it)

Start in: C:\JBCL

To delete the automatic startup, open the startup folder as above, and delete the
AboutTime shortcut.

Which mode the program starts in (eg now recording or Future events running) can be set iby clicking the "Settings" button in the middle of the About Time screen.


Notes about installation and uninstallation

This program does not install anything in the Registry.
It can be copied to another computer by copying the folder(s) with the
programs and the logfile. (ie the default is the C:\JBCL folder)

The installation program installs:
-Several programs and this text notes file.
-A shortcut on the desktop (optional)

There may also be
-A shortcut in the startup folder (optional)



What programs are in About Time?



Also most of the functions that only are used from time to time are separate programs, so when needed they start, and then finish so no resources are being used when not needed. The core About Time program contains ony a few main functions - counting notes, Now recording and Now Summary Totals, and Future Events queue. Extra functions, such as Reminders and Settings, finding notes or other information are separate programs, so only run when needed.

The programs are:
AboutTime - central controller - Now recording (if turned on), Future Events queue (if turned on)
ATSettings - All the Settings
ATNote - store and find Past text notes
ATNowInfo.exe - "Now" information on what I was doing - (search,summary reports, sort, filter, print)
ATEvents - Set Future events and test them
ATRemind - popup reminder program
ATMore - Shutdown/Suspend/Hibernate options

Others:


ATClock - floating desktop clock

ATClock3 - later prettier floating desktop clock

ATClockW7a.exe - Windows 7 looking desktop clock








Uninstalling


These can be deleted either manually or by using the uninstall option in
Control Panel Add/Remove programs if an installer was used.

Note you do not normally need to uninstall JBCL programs as they do not install into the registry or the "Program Files" area. (the only information the Windows installer installs is in fact the uninstall information and the desktop shortcut.).

To delete from one workstation, delete the folder C:\JBCL,
To delete from a network, delete the two JBCL folders (shared folder JBCLUpd or JBCLMain on the server, and C:\JBCL on each workstation) will remove all JBCL programs from a network. Also delete any shortcuts.

To Index